Arrival of James Blue Collection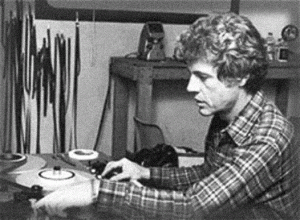 The University of Oregon Libraries recently acquired the collection of James Blue (1930-1980), an award-winning filmmaker and educator who graduated from the University of Oregon in 1953 (see below for images of the collection arriving). The collection extensively documents Blue's three decades as a filmmaker and educator, as well as providing critical insights into his personal life and development as an artist. The materials include screenplays, storyboards, notes and research, correspondence, teaching materials, photographs, home movies, documentary and feature films in various formats, and audio interviews with many of the world's leading film directors. Previous small accessions were received in prior years, however, this is the largest accretion thus far totaling 76 boxes. The collection's size (approx. 130 linear feet), scope, and diversity of formats present an invaluable opportunity for students and researchers at UO and beyond. For the past 30 years Gerald O'Grady, who recruited Blue to SUNY Buffalo in 1977,  served as the caretaker of the collection. He and the James Blue Foundation assisted in the eventual transfer of the records to the university. The collection is on deposit until April 2014 and will be officially donated as part of the Cinema Pacific Program.
This is a major research collection of international significance. Blue's film Olive Trees of Justice (1962) is recognized as a classic of world cinema. It won the Critic's Prize at the Cannes Film Festival, and Blue was the first American to win this prestigious award. The March (1964) is a moving documentary about the March on Washington, and is an essential record of the American Civil Rights Movement. A Few Notes on our Food Problem (1968) was nominated for an Oscar for Best Documentary. Blue's twenty years of interviews with the world's best filmmakers represent a primary tool for film research. Despite his accomplishments, Blue has been "unheralded and unrewarded… unacknowledged and unrecognized for his achievements," according to one film historian. Preserving his papers, films, and audio materials and making them available to the public is a critical first step to bring Blue's contributions to light and to restore him to his rightful place in film history.  Blue's life, films and the announcement of his records coming to the university was also recently highlighted in the spring issue of the  Oregon Quarterly.
The Jordan Schnitzer Museum is hosting a six-month  James Blue Tribute, an initiative to screen his various films and host guest speakers. JSMA recently screened Blue's Cannes prize-winning film, "Olive Trees of Justice," and will continue to screen films in March and April.
Here are links to additional information about James Blue:
—IMDb page
–An interview with one of his students
—Facebook page devoted to remembering James Blue
–A booklet compiled to accompany a retrospective of his films
Below are images from the arrival of the collection last week at the UO Libraries:
The 76 boxes arrived from Cambridge, Massachusetts via a Pod
James Fox, Head of Special Collections and University Archives, and Richard Herskowtiz,
Director of Cinema Pacific, unload boxes from the Pod
Stephanie Kays, Collections Management Archivist, begins to check boxes in for inventorying
Labels that will go on the outside of the boxes
Austin Munsell, Collections Coordinator, and Amy Lake, Library Facilities, unload and boxes
Unloaded boxes ready for storage in Special Collections and University Archives
Austin Munsell begins shelving boxes in our Processing Room
Richard Herskowitz and James Fox begin looking at a few boxes in the Paulson Reading Room
They discover amazing photographs from James Blue's life
A young James Blue is pictured in this photograph
We will be posting updates about the collection as work progresses, so please check back often for new information!
~Elizabeth Peterson | Humanities Librarian and Curator of Moving Images
~Jennifer O'Neal | Corrigan Solari University Historian and Archivist